Welcome to the pet portraits page! I am a UK pet portrait artist based in London, working in pencil and watercolours and specialising particularly in dog portraits. I create custom pet portraits directly from your photos, and can ship to any location. Please follow the link to view the gallery, or read more about how to commission a pet portrait below.
Pet & equestrian portraits
With their soulful faces, dogs, horses and other animals make lovely subjects for a portrait in either pencil, delicate watercolour or traditional oils. I try to communicate their personality just as I would do with a portrait of a person and like to find out about their character from you before I start.
COMMISSIONING A CUSTOM PET PORTRAIT
Below, you'll find some information specific to animal portraits about what sort of photograph reference I'll need to work from and some tips on how to have a little photoshoot with your pet to take some great new photos for me to copy. There's also advice on the best size of portrait to choose.
Then follow the link below to read about the whole process of commissioning a portrait from start to finish and common FAQ's. Please also feel free to call me for a chat if you have any questions that aren't answered here and I can give you a custom quote.
You'll find a full list of sizes and costs on the prices page, but here are some pointers to consider: for a single animal portrait with head and neck (as with the first image below, a small size of 8×10 inches (or a square of 11×11 inches) will be quite large enough unless you particularly want a big portrait. However if you want me to draw or paint most of your pet's body, as in the second image, or two animals together as in the last image, your portrait will need to be at least 11×14 inch size so that the detail doesn't get too fiddly.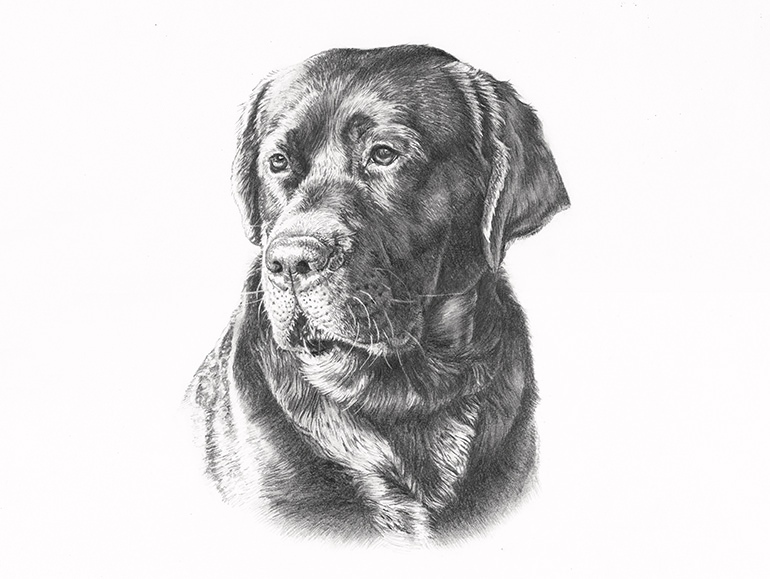 It's nearly always the best idea to take some new photographs for a pet portrait. Most of us take our photographs on our phones these days but phone cameras won't record the clarity and detail that I need to work from. Fortunately, even a cheap digital camera will do a much better job so I recommend taking your pet outside for a photoshoot in the natural light. If commissioning a portrait in colour this is even more important as a phone can't capture the colouring and tones in their fur adequately. Below are some ideal photo examples and you can also read more about taking suitable photos on this page.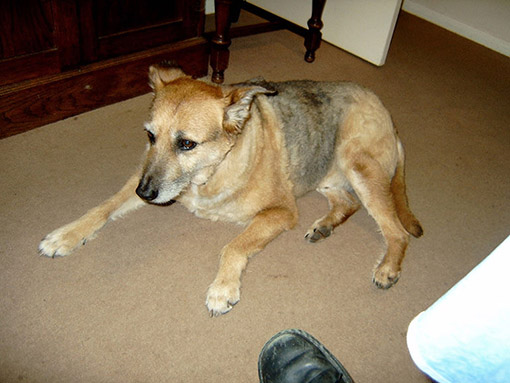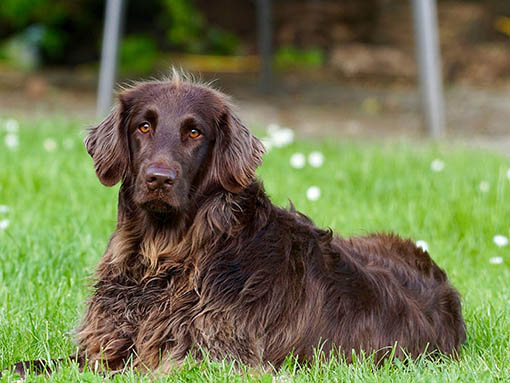 Once you've taken your photos, send your favourites over to me by email and we'll have another chat about which one I should work from, if you don't have a clear favourite. I make a fairly exact copy of one key image, however it's useful to also see a few more photos showing of your pet's appearance and colouring, and these other snaps don't need to be particularly good quality as they are just for me to get a more balanced impression. Here are some tips:
Take your photos out of doors, if at all possible. Natural light gives the sharpest and clearest photos – avoid artificial (evening) light indoors.
Photograph them as close-up as possible,  however if you would like a full-length portrait, try to remember not to cut off your pet's feet!
If you don't want your pet's collar to appear in the portrait, it's helpful if you can remove it for their photo
Don't worry if they drool a bit! I won't include this.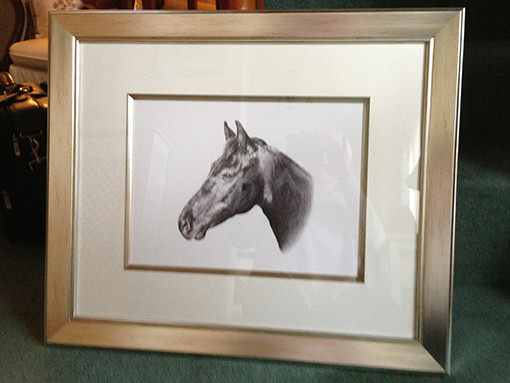 Framing an animal portrait
I don't offer framing but I'm always happy to advise you and have put together a guide here. This is a photo recently sent to me by a customer of her finished framed pencil portrait of her horse. It has been beautifully framed using an pale cream mount with a silver frame and silver-painted bevel to compliment the pencil tones.
Pet portraits with people
Having a portrait of your child with their pet is a really nice way to record their relationship. This is a favourite customer of mine with her little dog Poppy, drawn in pencil at 11×14 inch size. She commissioned the portrait as a birthday gift to her father. If you're interested in a person/pet portrait get in touch and I can give you a quote.
Creating the shine and smoothness of the fur is something of a challenge and over time I've developed a number of techniques for depicting fur in different mediums. If you are interested in drawing pet portraits yourself you can read a number of articles on the blog that may give you some pointers.
Pet portraits UK: custom pet portrait art specialising in dog portraits