Commissioning a portrait is usually a new experience for my customers and can feel like a bit of a leap in the unknown! To help, here's a summary of the process of commissioning a portrait
01
Get in touch with any questions, or if you need a quote. I'm always happy to chat, with absolutely no obligation. If you decide to go ahead, we'll then have a chat by phone or email about exactly how you want your portrait to appear in terms of size, pose, and so on. Have a look through the gallery and let me know if any particular portraits are in a style that you prefer.
02
Take some photos to give me a rounded image of the subject, and so that we can choose one key image amongst them for me to work from. I'll need a picture taken on a digital camera (not a phone camera) that's nice and close up and clear. You can read lots of information about suitable photographs here or by following the links at the bottom of the page.
When you have some pictures you think may be suitable, email them over and we can have a discussion about which might work best. Usually it can take quite a number of conversations or emails to sort out the photograph reference but this is all part of the process and well worth the effort. When we've decided which key photo I'll be copying from, I'll begin the portrait. Depending on the commission, a deposit is not normally required in advance until you've seen and approved the final artwork. 
03
When I feel that the portrait might be finished I'll make a scan of it and email this over for you to have a look. At this point you can let me know how you find the likeness, and if there's anything you'd like me to alter. I'll make any adjustments (and send you more scans to check) and when you're completely happy you can make the payment and I'll send your portrait straight out to you.
I don't tend to send 'progress' pictures at an early stage because I work very much in a layered way: blocking out areas of tone, erasing into them, and then refining them further until the image finally comes together at the end. Until then it doesn't always appear too promising and I don't want to worry my customers before I've reached a stage that I'm fairly happy with! However I'm always available if you want to check in with me and hear how it's going, especially if you have a deadline. I'll keep in regular contact with you if this is the case so you know that your portrait will be completed on time.
When I feel I have arrived at a point where I'm fairly happy with the portrait I'll send you a scan of it, and we can talk about anything you'd like me to alter. I always want to get the likeness absolutely spot on and portraits – particularly those drawn or painted from photos where I don't actually meet the subject – are a very collaborative process. I'm more than happy to make adjustments in the final stages so don't be concerned that you're 'nit-picking'
Here you can see an earlier stage of a dog portrait.  The second image is the final portrait where you can see I have really refined the areas of tone and worked in much more detail.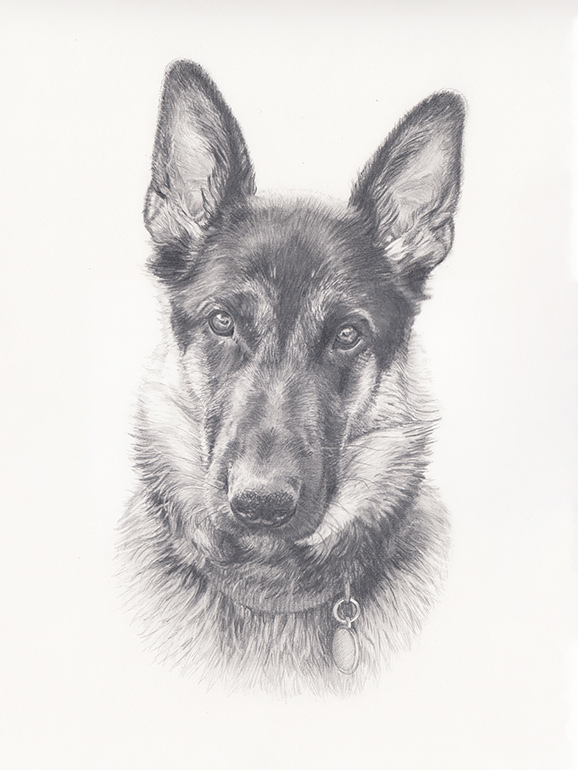 Once you've approved your portrait I'll send over an invoice. You can find full details of different ways to pay on the prices page. For delivery, if you're in the UK I usually use Royal Mail's Next Day Special Delivery courier service, which I have always found completely reliable. This is a fully tracked and signed-for service and I will let you know your tracking number and when to expect delivery (before mailing it I will check with you which is a good day to receive your portrait) Large portraits and international orders are sent via UPS.
Pencil portraits are first sprayed with fixative spray to stop the graphite from rubbing onto your fingers when you handle them. All portraits are then placed in acid-free cellophane sleeves and sandwiched between rigid custom-cut MDF boards, to ensure that they can't be bent in transit. Finally, they are double wrapped in tough polythene. Your portrait will be fully insured in the mail and I guarantee its safe arrival.
COMMISSIONING YOUR PORTRAIT
What is your waiting time?
This varies a lot depending on the time of year and on my work commitments – the contact page will give you current estimates. I only work on portraits during school term time.
It's always a good idea to get in touch as soon as possible so that we can start discussing which photos I should work from. Christmas is always the busiest period, so don't leave a commission request until December.
Do you take commissions from outside of the UK?
Yes, as I work from photos I can mail portraits out to just about anywhere!
Can you make a composite portrait of two (or more) people or animals, from different photos?
I really advise against this, because the tones and lighting in each photo are likely to be very different (unless the photos were taken at the same time and in the same place) and so they are likely to look unnatural when placed together on a page. If you aren't able to take a photo of the subjects together then I'd suggest getting separate smaller portraits instead. 
If you've done a photoshoot and taken a number pictures of your children (or pets) together then I may be able to mix and match a bit, because the light sources will be identical in the various photos. 
I only have hard copies and not digital photos - can you work from these?
It's not always possible to work from a printed photograph, especially an old one. If your original is at least 5″ x 7″ and taken close up (for example an old school photo of a reasonable size) then I may be able to do so. You could either have a copy made and post it to me in a card-backed envelope, or you could ask a printing shop to make a high resolution scan with a minimum of 300 'dpi' and give it to you on a CD to email or send to me.
Will you sign the portrait?
I usually initial my portraits, but if you prefer a full signature just let me know. Sometimes people also like me to write the name of the subject and the date.
Do you offer pastels or coloured pencil portraits, or charcoal sketches?
Not at the moment – only graphite pencil or watercolours. 
I'd like to get a partially clothed or nude portrait made, would you consider that?
I first learned to draw in life drawing classes from the naked model, so I have no problem with this as long as it's tasteful – just not explicit! I'd obviously treat the reference photographs with great discretion and delete them fully afterwards. You can find an example of a nude study in the pencil gallery.
Please note though that this type of life drawing doesn't really work at a small scale. The minimum size would be 14″ x 16″ (35.5cm x 40.5cm) for a head-to-waist portrait, or 16″ x 23″ (40.5cm x 58.5cm) for a full body drawing.
When do I pay, and what are the guarantees?
Pencil portraits: I don't usually require any deposit for a pencil portrait, unless the order is very large. I will send you a scan of your portrait before taking any payment or sending it out. It hasn't happened yet, but if you are not completely happy and I can't fix the problem for you, you don't have to buy it.  Likewise if you receive your portrait and are not happy you can return it for a full refund.
Watercolour portraits: For watercolour paintings, a deposit of 35% is required, to be cleared before I start work on your portrait. However if you really aren't happy with your finished portrait and wish to return it, then your deposit will be refunded in full.
For further terms and conditions please click here.
What are the payment methods?
The easiest way to pay (if you are in the UK) is by internet transfer/online banking. I also accept cheques or postal orders. You can also pay by Paypal or credit card, though a processing fee will apply – more detail is available on the
prices
page.
Can I buy an extra copy of my portrait?
I can get a giclée printed copy made for you from your portrait, or more than one copy if you'd like. This is a high quality print on archival quality cotton paper, which looks indistinguishable from the original drawing or painting.  You'll find more information on giclée prints here. I keep a high resolution scan of every portrait on file so that customers can come back and request an extra print at any point.
Do portraits come framed?
Unfortunately I don't offer framing but I'm happy to advise my customers on how to frame their portrait and send out an information sheet about framing and conservation with each order. I've also put together an online guide with lots of information on how to frame your artwork
Can I collect my portrait in person?
Yes, if you live in the London area you're welcome to come and collect your portrait in person if you'd prefer
Will the portrait appear on the website?
I'm very grateful when customers allow me to display their portraits, however I understand that some people prefer not to. I display some portraits on the website and on my Facebook, Instagram and Pinterest pages. However if you don't want your portrait to appear online just let me know. The only place that names will appear online is in the website gallery where portraits are identified by a first name only. Some people prefer me to use a pseudonym, which is also fine.
Can you supply me with a high-res scan of my portrait?
If you want a high resolution digital image of your portrait to get your own printed copy made or to send to a relative for example, I can supply you with a copy. A £10-20 charge will apply depending on the size of the portrait to cover the work involved in splicing and blending together the scans using Photoshop.
I'm happy for you to get your portrait reproduced in any way that you want – you can read the terms and conditions page for full details.