SOME FUN ART RESOURCES FOR KIDS
I'm such a big believer in introducing children to as many varied types of art as possible, because we tend to lose our confidence as soon as we start to shut down our ideas about what art can and should be. Kids can start to lose their confidence really early on if they think they aren't 'good at drawing'!  Exposing them to a wide range of artistic styles and media can show them that there are so many valid ways to express themselves creatively.
Just like adults some children will be better at drawing from observation, some will draw imaginatively, and others will just have a great sense of colour and pattern and will enjoy playing with design. A child who likes cutting and sticking could be inspired by Henri Matisse's paper cuts. One who likes geometry and patterns might enjoy Bridget Riley's Op Art, or Damien Hursts' famous Spot Paintings. Artists like Juan Miro and Paul Klee can also demonstrate that doodling can create fantastic art!
Taking children to museums and art galleries is great if you are lucky enough to live near to any, and particularly to those that create child-friendly exhibits. However there are also lots of other (free) ways to get them enjoying art. During the Covid-19 lockdown I also discovered some really great online resources for kids and here are two of the best: one from the UK's Tate Gallery and the other from the Met Museum in New York.
Tate Kids is a subsection of the Tate gallery's website which is entirely aimed at children. It's divided into three sections: 'Make' which contains ideas for all sort of art to create, 'Games & Quizzes' which is very interactive, and 'Explore' which curates a selection of the museum's artefacts.
The site is full of really high quality content. There are some nice videos, such as a tour around the Tate by children's author Jacqueline Wilson encouraging children to use the artworks to spark off stories and ideas, or a film about contemporary British artist Steve McQueen and his 'Year 3' artwork involving primary school children from all over London.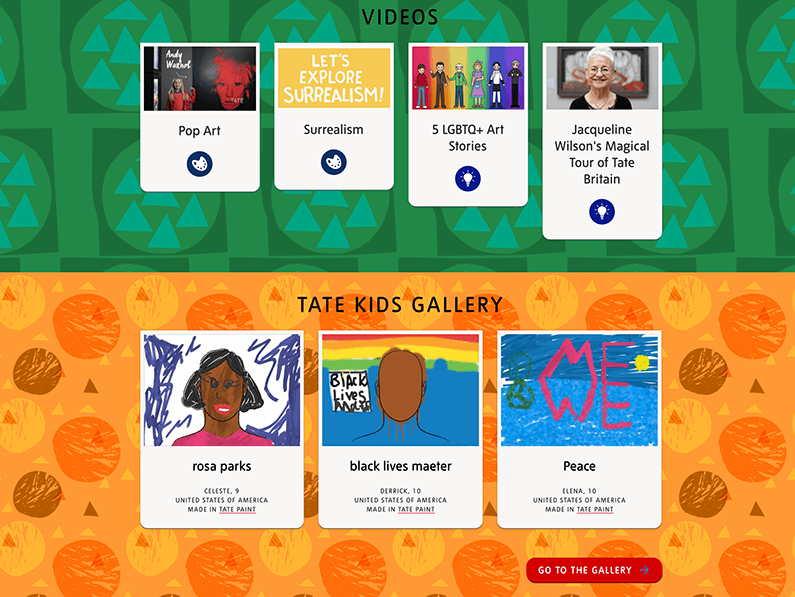 Picture credit: Tate kids Tate Museum
There's also an online drawing app which children can use to create a work of art and then upload it to a 'Kids Gallery' where some of them are chosen to be displayed. It's full of drawings from hundreds of kids all around the world.
Picture credit: Tate kids Tate Museum
The 'Make' page contains projects based on drawing, painting, collage and craft. There are also sculpture or technology-inspired projects, images to print out and colour in, and performance ideas. All the projects are inspired by artworks in the Tate museums' collections and vary in their degree of simplicity and in the age group they target. However they all aim to introduce kids to works of art and to get them to explore them in a creative way.
Picture credit: Tate kids Tate Museum
The 'Games & Quizzes' section is also very varied and is full of clever interactive games to get children thinking about artworks in different ways, or be inspired to create their own.
Picture credit: Tate kids Tate Museum
Lastly the 'Explore' section showcases many of the gallery's objects by grouping them in different themes based around either subject or style. Clicking on one brings up a small page of information that ask children questions to get them thinking imaginatively and even critically. I like how the choice of artists and artworks isn't remotely sanitised and covers everyone from the Impressionists to the Guerrilla Girls.
Part of NY's Metropolitan Museum of Art website, #MetKids is also an excellent resource that is like a completely separate website for children. Like Tate Kids, its content is written by museum curators and is really good.
This site is also divided into three categories. The first is a vast picture map of the museum and all its exhibits, that goes on and on if you keep scrolling upwards or side to side. Kids can click on the little coloured dots to bring up information about the exhibit.
Picture credit: #Metkids Metropolitan Museum of Art, NY
You could locate an item for them and then challenge them to find it! If you were actually able to visit the museum it would also be a good way to get them interested in advance and to locate items they'd like to see.
Picture credit: #Metkids Metropolitan Museum of Art, NY
The next section is called 'Time Machine'. On this page you can select a time period, geographic region or theme.
Picture credit: #Metkids Metropolitan Museum of Art, NY
Pressing the interactive button takes you to a curated list of items from the museum's collection.
Picture credit: #Metkids Metropolitan Museum of Art, NY
Clicking on an item then zooms you back to the picture map and locates it, and brings up a child-friendly description, audio and other resources
Picture credit: #Metkids Metropolitan Museum of Art, NY
The last category is a page full of videos which include lots of easy and well-designed art projects. There are also films of children interviewing museum curators on many different topics, asking challenging questions (for example 'Can a painting tell more than one story?') and learning about conservation.